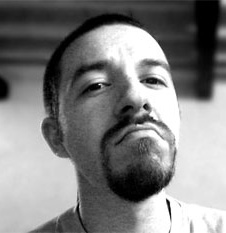 Contact
To contact me directly, you can send me a message here: deathpat@daedalus-thegame.com
Otherwise you can throw a message on the different places where I posted about my game:
The author
My name is Patrice Meneguzzi (aka deathpat), I'm a 35 years old software engineer living in France.
I've been working for 11 years on web applications, using mainly java for the server part, and the classic HTML / CSS / Javscript for the client.
I've always been interested in gaming as a player, as well as drawing and making music ... so it was just a matter of time for me to put all of this together and create a game :)
The game
Back in time, when I was younger, I was a big fan of the Alien Breed games I used to play on Amiga. For sure the best one was Alien Breed Tower Assault. Then a few years later came Quake 3 Arena on PC. This was the first FPS game I played in LAN with an arena mode.
From there I always told myself that it would be really cool to have a mix of these two games: a multiplayer arena shooter with 2d top down graphics ... but I never saw it coming so I decided to give a try at making it myself.
That's how Daedalus was born. I developed this game as a hobby for 3 years. I did all the code, graphics and music from the couch in my living room :D I hope you will enjoy it!